For women experiencing stretched, droopy breasts due to genetics, ageing, weight fluctuations, and/or pregnancy and breastfeeding, London-based Consultant Plastic Surgeon Mr William Townley can perform customised breast lift procedures to achieve pert, youthful-looking breasts. Using a variety of advanced surgical techniques, Mr Townley can remove excess skin, reshape the breasts, elevate their position, revise the areolae, and restore volume for a satisfying result.
What Is Breast Lift Surgery?
Breast lift (mastopexy) is a plastic surgery procedure designed to elevate the position of the breasts on the chest wall, while also improving their shape, fullness, and symmetry. Additionally, the areolae can be reduced and repositioned during the procedure to enhance the quality of the final result. To restore diminished breast volume and/or enhance breast size and shape, Mr Townley may utilise either the patient's own breast tissue or breast implants. Since each woman's needs and goals are unique, breast lift surgery is meticulously personalised to suit the individual's cosmetic challenges and desired outcome.
Who Is a Candidate for Breast Lift?
Suitable candidates for breast lift are generally in good health and do not have any conditions that might prevent them from healing properly. Often, women considering breast lift are affected by a combination of cosmetic concerns:
Loose, stretched breast skin that has lost its elasticity
Diminished breast volume and fullness
Breast shape that has changed over time
Loss of breast firmness
Breasts that have a drooping shape due to genetics
Low or downward pointing nipples and areolae
Stretched or enlarged areolae
Breast asymmetry that has appeared or become more prominent with age
Whether breast position, shape, and firmness has changed because of ageing, weight changes, or pregnancy and breastfeeding, Mr Townley can design a surgical breast lift plan with the goal of restoring a rejuvenated appearance. For women who desire additional breast fullness, placement of breast implants can be included in the procedure.
To find out if breast lift surgery or another cosmetic breast procedure is right for you, a consultation with Mr Townley is required. During this appointment, Mr Townley will examine the breasts, review your medical history, and listen to your concerns. Based on his findings and your input, he can determine if you are a good candidate for a breast lift and will develop a personalised surgical plan aimed at achieving the new look you desire.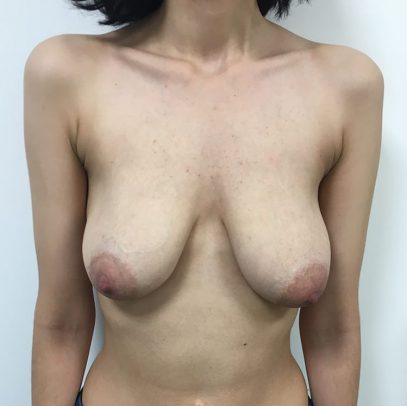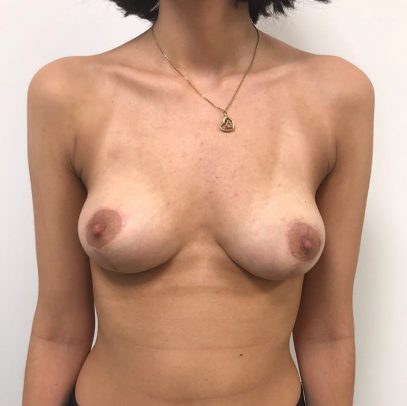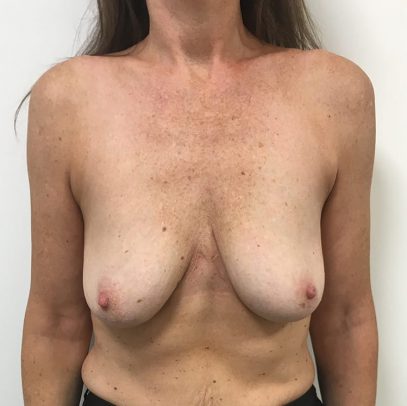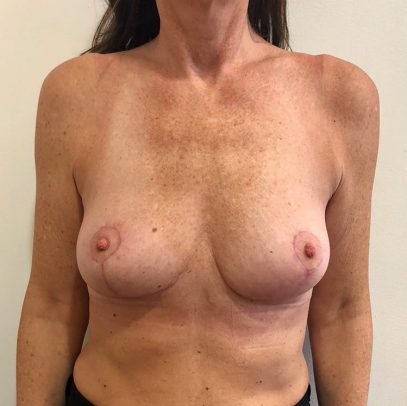 What Are My Breast Lift Options?
While there are a variety of techniques Mr Townley may use to accomplish your breast lift, generally speaking breast lift surgery is split into two options—breast lift (mastopexy) and breast lift with implants (augmentation mastopexy):
Breast Lift (Mastopexy)
A breast lift without the placement of breast implants utilises the patient's existing skin, tissue, and fat to create a more elevated, firmer, and more optimally shaped breast. Mr Townley favours the use of an advanced "auto-augmentation" technique, which uses the lower part of the breast tissue (which would be discarded using traditional breast lift methods) to fill the upper portion of the breast. With this technique, a youthful and natural-looking breast shape can be accomplished without the need for an implant.
Breast Lift with Implants (Augmentation Mastopexy)
For women who have lost a significant amount of breast volume or those who simply desire additional breast fullness and shape, Mr Townley can perform a breast lift that combines the placement of breast implants (breast augmentation). Implants are typically placed using a dual-plane placement, which partially inserts the top portion of the implant under the chest muscle. This placement helps maintain implant positioning over time and assists in creating the most natural-looking aesthetic result.
During your consultation with Mr Townley, he can suggest the breast lift approach that is the best match for your needs and goals.
What Happens During Breast Lift Surgery?
Breast lift surgery is typically performed under general anaesthesia in hospital as a daycase. The procedure generally takes an average of two hours to complete. Breast lift surgery begins with an incision around the areola, the darker skin surrounding the nipple. For patients who require only a small lift and minor repositioning of the nipple, Mr Townley can perform a circumareolar lift (also called a Benelli or donut mastopexy) that requires only an incision around the areola region, through which the lift can be accomplished and an implant can be placed, if desired. When a more significant lift is necessary and there is an abundance of tissue to work with, Mr Townley generally opts for an auto-augmentation breast lift technique, which results in an incision around the nipple region and a closed vertical incision beneath the areola. During auto-augmentation, tissue from the lower pole of the breast is repositioned into the upper pole to create added fullness and shape. There are additional options for the way in which your surgery may be performed, and Mr Townley will clearly explain the details of how your breast lift will be accomplished prior to your surgery. Once the breasts have been surgically lifted and reshaped, and the nipple has been repositioned, the incisions are bandaged.
What Is Breast Lift Recovery Like?
After breast lift surgery, temporary soreness, bruising, and swelling are expected. As the body heals, these effects should resolve quickly. Generally, patients are able to return to work after about a week of rest; however, every individual's recovery is unique and your recuperation period may take more or less time depending on the details of your surgery and how your body responds post-operatively. Vigorous exercise, heavy lifting, and other strenuous activities should be avoided until you are cleared by Mr Townley during one of your follow-up appointments. While your incisions will develop scar tissue and may appear reddish and raised in the initial phases of healing, they should fade and flatten over about a year's time.
To see examples of Mr Townley's breast lift cases, please explore our breast lift gallery.
How Much Does Breast Lift Surgery Cost?
The average price range for a breast lift performed by Mr Townley is as follows:
Breast Lift without Implants: £7,500
Breast Lift with Implants: from£8,500
The exact cost for your procedure will depend upon the unique details of your surgical plan and whether or not you opt to add breast implants. For an accurate price estimate, you must meet with Mr Townley for a consultation. At the end of your appointment, you will receive a detailed quote for the total cost of your breast lift based on the specifics of your surgical plan. You will also have the opportunity to discuss payment options and schedule your procedure with the help of our knowledgeable office team.
Are you considering a breast lift? Contact our office to learn more.