Chin augmentation procedures, whether surgical or non-surgical, can provide you with a more defined chin and jawline to enhance aesthetic harmony among facial features and optimise the appearance of your profile. Commonly performed along with other facial plastic surgery procedures, such as rhinoplasty, facelift, and neck lift, customised chin augmentation can improve jawline proportions and deliver balanced, natural-looking results.
What Is Chin Augmentation?
Chin augmentation is a cosmetic procedure designed to enhance the shape and definition of the chin to achieve a variety of aesthetic improvements in the appearance of the face and profile. The procedure can be accomplished with the surgical placement of a silicone chin implant, or through the injection of dermal fillers or fat transfer.
Who Is a Candidate for Chin Augmentation?
Candidates for chin augmentation are usually concerned with correcting the appearance of an underdeveloped or undersized chin. This condition may be genetic or it may be the result of facial ageing. Regardless of the cause, the chin augmentation options offered by Mr Townley can achieve a variety of aesthetic goals, such as balancing the facial structure, defining the chin and jawline, and creating a more harmonious side profile. During a consultation, consultant plastic surgeon Willian Townley can evaluate your facial features and any signs of ageing to determine which chin augmentation technique is indicated for your needs and goals. His approach focuses on designing personalised treatment plans aimed at creating natural-looking results that enhance both your appearance and self-confidence.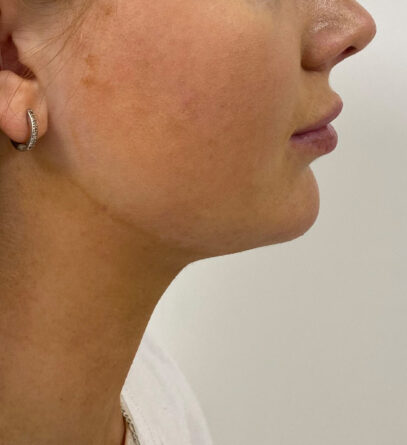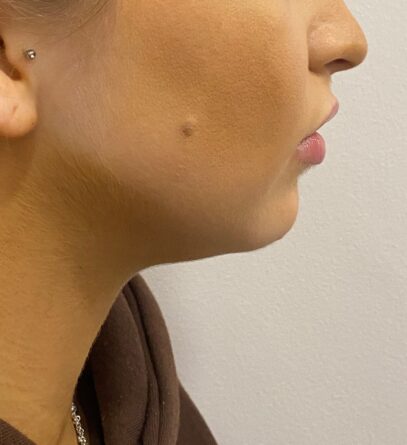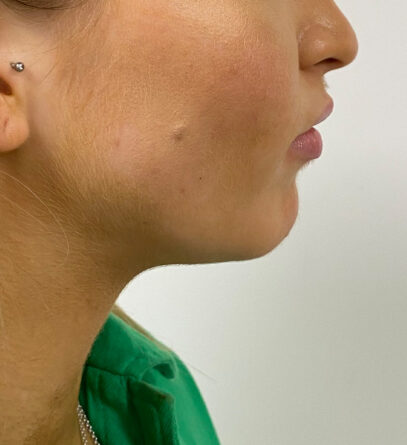 What Are My Chin Augmentation Options?
Depending on the degree of enhancement you desire, Mr Townley will design a personalised chin augmentation procedure that can help you achieve your cosmetic goals. There are several treatment approaches he can utilise to create beautifully balanced, natural-looking results:
Chin Implant
For chin augmentation results that are generally more significant in size and long-lasting, Mr Townley can place a silicone chin implant. These implants come in a variety of shapes and sizes, making it possible to find the precise implant you require for optimal results. Typically, chin implants are the most preferable option for patients with a genetically "weak" chin, facial development abnormalities, or significant age-related chin recession.
Injectable Dermal Fillers
For more subtle chin enhancement and definition, Mr Townley can use state-of-the-art dermal fillers. While injectables are not as long-lasting as an implant, the non-surgical nature of the treatment and the customisation it offers can make it an appealing option for many patients. Injectables can also be used to further define the jawline as well as the chin. Injectable treatments can be repeated as needed to maintain optimal results.
Fat Transfer
Chin augmentation can also be accomplished through fat transfer procedures that utilise your own fat—which is collected via liposuction and purified—for reinjection into the chin. Much like dermal filler injections, fat transfer is well-suited for creating more subtle results than chin implants. Fat transfer is often preferred over dermal fillers when softer, smoother, longer-lasting results are prioritised. For suitable patients, Mr Townley may perform neck contouring liposuction to reduce submental fullness and then use the removed fat to accomplish chin augmentation during a single procedure. 
Combining Chin Augmentation with Other Procedures
It is not uncommon for chin augmentation to be combined with other procedures such as rhinoplasty, neck lift, and/or facelift to achieve a more comprehensive degree of facial rejuvenation and/or enhancement. Chin augmentation is frequently an ideal complement to other facial plastic surgeries as it can create more elegant harmony among facial features and provide added definition and structure.
What Happens During Chin Augmentation?
Surgical chin augmentation is most often performed under general anaesthesia as a daycase. The silicone chin implant is placed through either an intra-oral or submental incision. Generally, Mr Townley prefers to utilise a submental incision, as it offers him better control over implant placement, reduces the likelihood of infection, and is easily combined with other neck contouring procedures, such as short-scar neck lift. Once the chin implant is adjusted into an optimal position, the incisions can be closed and bandaged.
Non-surgical chin augmentation is achieved with injections of either synthetic dermal fillers or the patient's own fat. Treatment with dermal fillers is typically a quick, relatively painless process that can be performed in-office—topical anaesthetics can help mitigate injection discomfort if desired. Since fat transfers require liposuction to collect fat, this procedure is performed in a surgical setting as a daycase. The collected fat is purified and reinjected into the chin to create the desired projection and shape. 
What is Chin Augmentation Recovery Like?
It is common to experience temporary swelling, soreness, and bruising after surgical chin augmentation. You will be instructed to wear a chin support garment to hold the implant in proper position as you heal. Most patients are able to resume work and other normal activities after about a week of recovery. Vigorous exercise and contact sports should be avoided for several weeks.
How Much Does Chin Augmentation Cost?
The average price ranges for chin augmentation procedures performed by Mr Townley are as follows:
Surgical Chin Augmentation with Chin Implant: £5,500 to £6,500
Non-Surgical Chin Augmentation with Dermal Fillers: £500 to £900
Fat Transfer Chin Augmentation: £4,500 to £5,000
The cost of your chin augmentation may vary depending on a variety of factors, such as the technique, the degree of augmentation desired, and the price of any additional procedures you may be combining with chin augmentation. Once Mr Townley has developed a customised treatment plan during your consultation, you can receive an accurate estimate for the cost of your procedure(s). You will also have the opportunity to discuss payment options and scheduling with Mr Townley's office team.