The nose plays an essential role in both your facial appearance and breathing function. For those unhappy with their nose shape or size, nasal reshaping can help you obtain the nose you have always wanted. A rhinoplasty procedure from our experienced Consultant Plastic Surgeon, Mr William Townley, can modify the shape and size of the nose to deliver natural-looking results that create an improved aesthetic balance among facial features. He is extensively trained and experienced with facial plastic and reconstructive surgery procedures and is committed to producing rhinoplasty results that look both natural and beautiful. 
What Is Rhinoplasty?
Rhinoplasty is an advanced plastic surgery procedure designed to enhance the appearance of the nose. Often referred to as a "nose job," rhinoplasty can also be performed to correct functional nasal issues, such as a deviated septum, which may be causing breathing difficulties.
Who Is a Candidate for Rhinoplasty?
Before a rhinoplasty can be done, you must be healthy enough to undergo both the procedure and its recovery process. During your consultation, Mr Townley will evaluate your general health, including any existing medical conditions, and perform a physical examination. He uses computer-simulated imaging to generate a preview image to give you an idea of how your nose may look after surgery. He will also thoroughly discuss the process with you to make sure you are physically and mentally prepared. (Please also note that you may not smoke for at least six weeks before the procedure.) If surgical rhinoplasty is the ideal option for your needs, he will develop a customised treatment plan designed to meet your expectations.
What Concerns Can Rhinoplasty Address?
There are a variety of reasons why individuals may be self-conscious about the appearance of their nose. Rhinoplasty offers an array of advantages for patients who would like to effectively address these issues. This treatment is often performed for individuals who would like to:
Increase or decrease the general size of the nose
Straighten a "crooked" appearance
Modify the projection/angle of the nasal tip
Give the nostrils a smaller or wider appearance
Remove "humps" or "bumps" in the bridge of the nose
Recontour the bridge to create a thinner or wider appearance
Enhance overall symmetry and aesthetic balance
Correct a deviated septum to improve nasal breathing and reduce congestion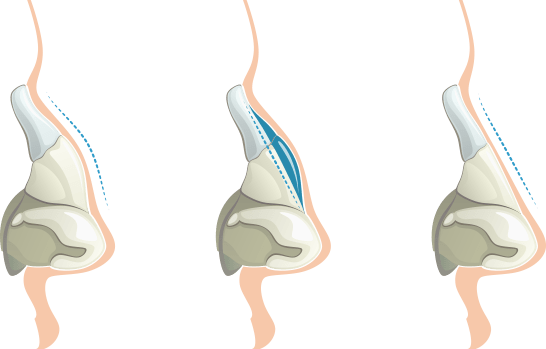 What Does the Rhinoplasty Procedure Entail?
Rhinoplasty is performed while the patient is under general anaesthesia (asleep). Most patients go home on the day of surgery although an overnight stay is possible. The procedure usually takes approximately two to three hours to complete. A variety of techniques and manoeuvres are utilised to address the specific concerns and goals of each patient. Most techniques require a discreet incision to be made along the columella (the strip of tissue just under the nostrils) – so called "open rhinoplasty." This allows for an accurate adjustment to the structure and shape of the nose with scarring that is virtually undetectable.
Once the incisions are made, Mr Townley will carefully and precisely reshape the nose to create the desired result. Mr Townley uses an ultrasonic technique to adjust the nasal bones – this is a modern "state-of-the-art" technique that provides a very accurate reduction and polished contour. It has also been shown to reduce swelling and bruising and therefore facilitate recovery.
A silicone splint is placed on the nose and a few small sutures under the tip, which are removed after one week. Nasal packing is not routinely used.
What is Ultrasonic Rhinoplasty?
Mr. Townley uses a contemporary technique involving ultrasonic energy for bone reshaping during the rhinoplasty to remove bumps, narrow nasal bones, and correct asymmetries. Ultrasonic (or Piezo) rhinoplasty avoids the need for a hammer and chisel (which is still the dominant technique used by most rhinoplasty surgeons), thereby allowing greater control and precision. In addition to delivering a more polished look, ultrasonic rhinoplasty reduces soft tissue trauma and, therefore, bruising and swelling after surgery.
What Can I Expect During Recovery from Rhinoplasty?
Patients can expect some degree of swelling and bruising in the nasal area following rhinoplasty; these effects are normal and should subside over time. Medication can alleviate any potential discomfort during the recovery process.
Most individuals who undergo rhinoplasty surgery are able to resume normal daily routines within approximately one to two weeks, or as recommended by Mr Townley. We can provide you with more detailed recovery expectations once you have been examined and a treatment plan has been created.
Can I Expect Rhinoplasty Scars?
In most cases, rhinoplasty leaves patients with little to no visible scarring due to the extra steps taken to protect the face during surgery, as well as placing incisions in inconspicuous areas. However, there is always a small possibility of scarring. Rest assured that Mr Townely will plainly discuss the risks of scarring with you before you go forward with the procedure.
How Much Does Rhinoplasty Cost?
Pricing will vary depending on several factors, including hospital stays and the complexity of your surgery. The cost of a full ultrasonic rhinoplasty surgery on its own is typically £9,500, but we will provide you with a cost quote specific to your needs during your consultation.
How to Choose the Right Rhinoplasty Surgeon
To undergo rhinoplasty can be a major life decision. As such, it is crucial to have a qualified and experienced plastic surgeon on your side to ensure you can achieve your desired results. An ideal surgeon will be attentive to your wishes while relying on his or her medical expertise to make them a reality.
First and foremost, make sure the surgeon you choose is qualified. Consultant Plastic Surgeons, such as Mr Townley, have earned the highest certification in the plastic surgery field and have undergone many years of training. They will often be able to provide you with patient testimonials and before-and-after photos to give you a sense of their work.
Your surgeon should also be open to communication. You need to be able to trust your surgeon and comfortably ask questions.
Additional Rhinoplasty FAQs
Will my rhinoplasty results look natural?
Mr Townley is well-known for producing results that bring out the natural beauty of each patient's face, which can be reflected in these
before-and-after rhinoplasty pictures
. Although every patient is unique, there are often pictures of patients with similar features and goals that can help you anticipate an outcome.To enhance the aesthetic quality of your new nose and the overall facial balance/profile, consider the following procedures as well:
Neck contouring
Short-scar neck lift
In our experience, these in combination with rhinoplasty can vastly improve the symmetry and balance of many patients' profiles. In addition, many patients choose to combine rhinoplasty and breast augmentation, breast reduction, or breast lift surgery to get the best of Mr Townley's expertise and reduce overall recovery time.
Feel free to discuss additional procedures with Mr Townley at your consultation.
Can rhinoplasty improve my breathing?
If you were to undergo a surgery solely dedicated to repairing a deviated septum, you would opt for a septoplasty.  However, while rhinoplasty is typically conducted for cosmetic purposes, it can also repair a deviated septum and other breathing issues. Patients sometimes choose a combination of both procedures to ensure improvement in both functionality and aesthetic quality. Optimisation of nasal function is always a secondary goal of rhinoplasty, even in patients without a pre-existing septal deviation or congestion.
Will I need a cartilage graft with rhinoplasty?
In the rhinoplasty procedure, a cartilage graft may be needed to sculpt the nose into your desired shape. This involves harvesting a graft of cartilage from a donor site and utilising this material to rebuild the nasal structure when necessary. Mr Townley has brought out the natural beauty of countless patients with the help of cartilage grafting during rhinoplasty.
Would you like more information on rhinoplasty? Please contact us today with questions, or to schedule a consultation with Mr Townley.