What Is Eyelid Surgery (Blepharoplasty)?
Eyelid surgery, also called blepharoplasty, is a plastic surgery procedure that can create more youthful-looking eyes by carefully removing excess skin and fat deposits from the upper and/or lower eyelids. The goal of the procedure is to reduce signs of aging—such as puffiness, bags, and drooping skin—to create smoother, more optimally contoured eye lids. When blepharoplasty is performed by an experienced Consultant Plastic Surgeon, who is highly trained in the procedure, the surgery can revitalize the facial appearance and achieve a more refreshed look. Eyelid surgery is frequently combined with other facial plastic surgery procedures and non-surgical treatments, such as facelift surgery and cosmetic injectables, to attain more comprehensive rejuvenation of the face.
To learn more about eyelid surgery, please explore the informative sections we have provided below. You may also contact our office to schedule an appointment with our experienced Consultant Plastic Surgeon, Mr William Townley.
Who Is a Candidate for Eyelid Surgery?
Individuals who are good candidates for blepharoplasty are healthy enough for surgery and want to address the following types of concerns:
Excess inelastic skin along the upper and/or lower eyelids
Skin drooping into the field of vision, obscuring normal sight
Heavy, puffy upper lids
Bags under the eyes
A false tired or angry appearance
Loss of youthful upper eyelid contour
Accentuated junction between the lower eyelids and cheek
Wrinkles above and/or below the eyes
Hollowing beneath the eyes
To determine whether eyelid surgery is the right option for you, Mr Townley will perform a comprehensive evaluation of your health and an examination of your eyes. If you are a good candidate for eyelid surgery, Mr Townley can develop a personalised surgical plan based on the improvements you hope to achieve and the findings of his examination. He may suggest additional treatments to reduce wrinkles and restore diminished volume below the eyes, such as facial fat transfer and/or wrinkle relaxing injections. The goal of each eyelid surgery is to provide youthful, natural-looking results that enhance the overall appearance of the face.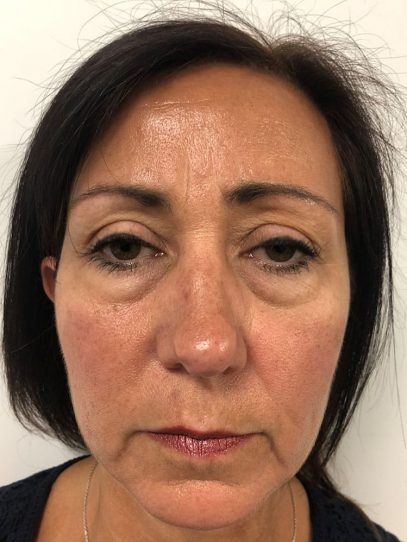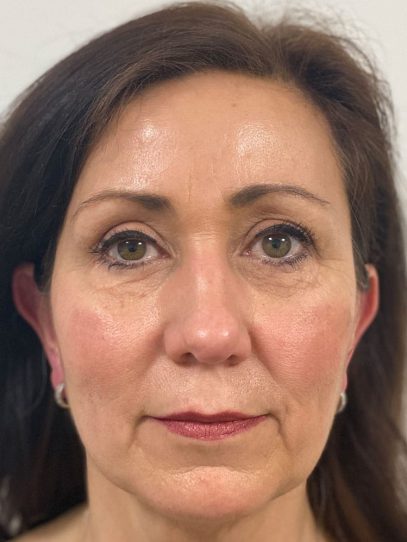 Types of Eyelid Surgery
Eyelid surgery can be performed to improve the upper eyelids, lower eyelids, or both:
Upper Eyelid Surgery
Upper blepharoplasty typically focuses on removing excess skin and fat from the upper eyelid region to reduce heavy, drooping, and/or puffy eyelids and restore a smoother, more youthful lid contour. Underlying musculature may also be tightened to support the upper lid and rejuvenate the shape of the eye.
Lower Eyelid Surgery
Lower blepharoplasty is recommended for individuals with under-eye bags, drooping excess skin, and/or hollows beneath the eyes. During lower eyelid surgery excess skin and fat is removed to create a smoother, tighter appearance under the eyes. Mr Townley favours modern, less-invasive approaches. In some cases, fat deposits may be sculpted and repositioned to fill hollows related to ageing and/or genetics. Supportive ligaments can also be tightened to restore the lower eyelid to a more youthful position and contour. Fat grafting may also help smooth over the junction between eyelid and cheek to help deliver a fresh and youthful appearance.
What Happens During Eyelid Lift Surgery?
Eyelid surgery is generally performed on an outpatient basis using either local or general anesthetic. The procedure typically takes one to two hours to complete, and timing may fluctuate based on the specific details of your surgical plan. Eyelid surgery uses inconspicuous incisions made either along the lower lashline (subciliary) or even on the inside of the eyelid (transconjunctival) for lower blepharoplasty, or within the natural crease of the upper eyelid for upper blepharoplasty. Through these incisions, Mr Townley is able to access and revise the underlying fat and musculature, as well as remove excess skin. During the procedure, Mr Townley is mindful of creating results that are balanced and symmetrical for a natural-looking outcome. Tiny sutures are used to carefully close the incisions once all surgical adjustments have been made.
What Is Blepharoplasty Recovery Like?
It is common to experience mild discomfort, bruising, and swelling for the first week after blepharoplasty. Pain medication, elevating the head, and applying cold compresses can help mitigate discomfort and control swelling during this initial period of healing. Most patients are able to return to work and resume their normal activities after around 7-10 days. Patients are advised to avoid strenuous exercise for up to four weeks or until such activity is approved by Mr Townley. During follow-up appointments, Mr Townley will personally oversee the progress of your healing and provide prompt treatment for any issues that may arise.
How Much Does Eyelid Surgery Cost?
The average cost for blepharoplasty performed by Mr Townley is usually between £4,500 and £7,500. The exact price for your eyelid surgery will depend upon the unique details of your treatment plan as costs can fluctuate based on the techniques used, whether combining upper with lower surgery, the complexity of the procedure, and the degree of improvement desired. For an accurate eyelid surgery estimate, a consultation with Mr Townley is required. After your customised surgical plan is developed, you will receive a quote that includes the total cost for your care. Our team can answer any questions you may have about pricing, payment options, and scheduling your procedure.
Are you considering eyelid surgery to achieve a more youthful appearance? Contact our office to learn more.