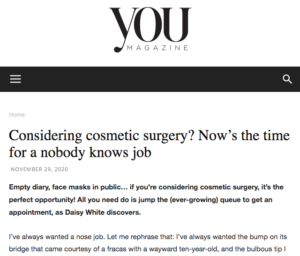 London consultant plastic surgeon—Mr William Townley—was recently featured in a You Magazine article written by Daisy White titled "Considering cosmetic surgery? Now's the time for a nobody knows job". In the piece, Daisy explores the current boom in plastic surgery and uncovers the multitude of reasons so many women and men are eagerly pursuing cosmetic enhancement. According to Daisy and the accounts of several leading plastic surgeons, the extreme social and behavioral shifts brought about by the COVID-19 pandemic have stoked the desire for plastic surgery among those who can afford it. For many individuals, there has never been a better time to consider plastic surgery. Common motivational factors include:
Financial savings from limited travel and events
Opportunities to recover from surgery without being noticed or judged
Extensive free time that can be devoted to scheduling surgery, keeping appointments, and healing restfully
For many plastic surgeons, including Mr Townley, the surge in requests for both surgical and non-surgical cosmetic treatments has resulted in packed schedules and patients clamoring for appointments.
For individuals interested in treatment, Mr Townley recommends contacting his practice to schedule a virtual or in-person consultation. Whether you are considering facial rejuvenation to improve your digital Zoom® reflection or want to take the opportunity to improve your figure, Mr Townley offers the full range of surgical and non-surgical options to achieve your goals.
To read the full content of the You Magazine article, please click here.
Previous Post
Next Post